Thanks to ARCH Alhaurin el Grande as the Andalusian rescue center for horses, there was a groundbreaking victory for animal rights Charity helped in a major case.
In January 2019, ARCH was called by the Animal Welfare Department of the Guardia Civil Seprona along with "El Refugio de Burrito" and "Caballos Luna" to help rescue a number of horses, donkeys and mules from a horse dealer in a small town north of Malaga .
Live animals coexisted with dead and dying animals under appalling conditions.
In pitch black and icy cold, in the light of heavy machinery – an excavator was needed to get the animals out – the attending vet compared the scene with Dante's inferno.
Over two years later, the case finally went to court in Malaga and the judiciary caught up with the former owner.
Thanks to the persistence of the ARCH animal rights attorney Aritz Toribio and a caring judge who was well informed about the new animal rights legislation, he has been banned from keeping and handling animals for eight years.
In addition, he has to pay the charities involved their costs for over two and a half years, with a heavy prison sentence if he defaults.
The lawyer commented, "This is the most important ruling banning animal possession that has ever been seen in Spain. We should be proud of having made it. Many thanks to ARCH and the Refugio del Burrito for your work and commitment. While we face many setbacks in our fight against animal cruelty, we should focus on all the animals that have and will continue to have a new life thanks to us. "
ARCH picked up three small ponies from the rescue that had not been around for long and their condition was not a cause for concern.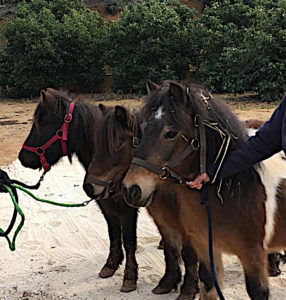 The trio, which went by the names Dinky, Dusty, and Gucci, spent several months at the center before they were given permission to go into foster care. All three have done well and it is likely that they will now be officially adopted by their foster families.
ARCH has revealed that they have been implicated in some really heartbreaking cases of neglect and abuse.
Unfortunately, they are sometimes involved when it is too late to save the affected animal. Just recently they took in a little pony named Lucero who hadn't been cared for in years and was suffering from chronic laminitis so badly (which meant he couldn't walk) that the vets could only advise them to euthanize him and his ailment to end .
The charity will pursue the owner's persecution but unfortunately it can take many months and even years for the cases to go to court but hopefully the new legislation will be less difficult now to go into effect.
To learn more about ARCH and the horses and donkeys rescued, follow the charity on their Facebook page – Centro Andalusi de Rescate de Caballos – or visit their website www.horserescuespain.org or visit them on a Sunday.
Thank you for reading 'Landmark Victory for Animal Rights Thanks to ARCH Alhaurin el Grande'.